Art at Work
June 2017–November 2017
Bond Collective, 68 3rd Street, Brooklyn, New York, 11231
Art at Work is an art installation by Justin Neely at Bond Collective, a coworking space with more than 450 members, based in the Gowanus Neighborhood of Brooklyn. The show includes eight paintings, 10 prints from digital paintings, and one collaborative digital work by Neely, as well as eight digital prints of watercolor sketches by Los Angeles–based artist Nick Brown.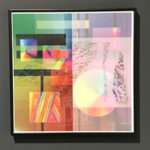 The one collaborative piece (at left) and 16 of the digital prints comprise a show titled Unoriginals, which is a distinct part of the larger installation. This show-within-a-show occupies two long walls and alternates digital paintings by Neely with watercolor sketches by Brown. Both sets of work are represented by 12.5″x12.5″ prints on card stock—a one-step remove from the original medium of work for both artists.
The installation was open to the public during Gowanus Open Studios weekend, October 21 and 22, and will remain available for viewing by appointment through November 2017. Please contact Justin Neely at art@justinneely.com to schedule a visit.
A full list of works on display with prices is available for download here.